Summer is heating up and here at Clean Cities we're taking advantage of these warm and sunny days with fun filled events.
June 17 was a beautiful (if a bit humid) Michigan summer day at Michigan State University – the host location of the host of GLACC's Jump Start Your Green Fleet with Propane event. Folks from all across the region came over to check out propane vehicles and a fueling demonstration at MSU's new propane filling station. Then, over the weekend of June 27 and 28 you could find GLACC at the Michigan Energy Fair sponsored by Great Lakes Renewable Energy Association.
At the MSU event, experts on propane, or autogas, included: GLACC member Suburban Propane that offers autogas at its Charlotte location, as well as Roush Cleantech – Ford's authorized propane upfitter for new F-series trucks, ICOM North America – the company responsible for converting MSU vehicles to run on propane autogas, and IPS – the firm that designed and installed MSU's on-site propane filling station. Each of these companies is either Michigan-based or has significant operations here in our great state. Attendees representing municipal and private fleet operators learned about how propane may be a good fit for their green fleet efforts.
The Energy Fair had a good showing this year of clean transportation exhibitors. Electric vehicle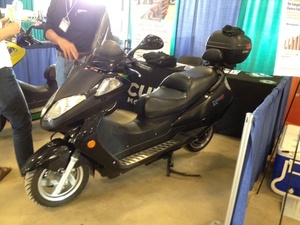 displays were prevalent in a variety of applications. Motor City Motors displayed an ell-electric early model Toyota Prius conversion as well as classic cars converted to run on electricity. Current Motor brought two electric motorcycles and scooters for attendees to see. Electric cycles are gaining in popularity with the legendary Harley Davidson recently announcing an electric model. This year's fair even had a presence of electricians focused on electric vehicle charging equipment installation (J. Ranck Electric, International Brotherhood of Electric Workers, National Electric Contractors Association). GLACC staff had a great time chatting with these vendors and the many attendees interested in how they can use alternative fuels or reduce their gas and diesel consumption in other ways.
Watch our website and social media sites for updates on late summer and fall events.