Seasons Greetings!
As 2014 comes to a close we look back on all of the progress that Greater Lansing Area Clean Cities has made this year. This was another exciting and eventful year for our coalition and this newsletter includes GLACC highlights, events and milestones of 2014. Many thanks to our supporters, stakeholders and staff that contributed to our coalitions success this year!
Remember – it's the little things that make a big difference towards reducing your fuel consumption over the Holiday Season. 
Some easy steps include: E​​ncouraging and participating in carpooling to and from holiday celebrations; checking the air in your tires to achieve optimal gas mileage while traveling (especially long distances); turning off your engine when waiting for family, friends, or fast food, walking when possible, or giving the gift of an                                                     alternative fuel vehicle!
Support GLACC
It's not to late to make your year end donation to GLACC now!  With your support we will continue to improve air quality, public health, and our economy through reduced dependence on petroleum. All individual donations are tax deductible and can be made online via paypal or by mailing them to our office at: 3135 Pine Tree Lane, #2C, Lansing MI  48910.
Greater Lansing Area Clean Cities and Partners
Replace School Buses in Tri-County Region
Greater Lansing Area Clean Cities (GLACC) worked with Genesee Intermediate School District, Haslett Public Schools, Mason Public Schools, Waverly Community Schools, and Williamston Community Schools to replace aging school buses with new buses that deliver higher fuel economy and lower emissions. This project was a part of the Michigan Clean Diesel Collaborative (MCDC) – an initiative that replaced and upgraded diesel vehicles in Lansing, Flint, and Detroit. Funding to support replacements was made available through the U.S. Environmental Protect Agency's (EPA) National Clean Diesel Funding Assistance program. A total of eight school buses were replaced as a result of this project; seven of which are diesel buses that meet U.S. Environmental Protection Agency's cleanest emission standards and one that runs on propane fuel."We are happy to help these school districts meet their clean transportation goals," said Kellee Christensen, GLACC Board President. "Newer, more efficient buses will create better air quality for children while increasing the use of clean transportation technologies in Michigan."
Jump Start your Green Fleet with Propane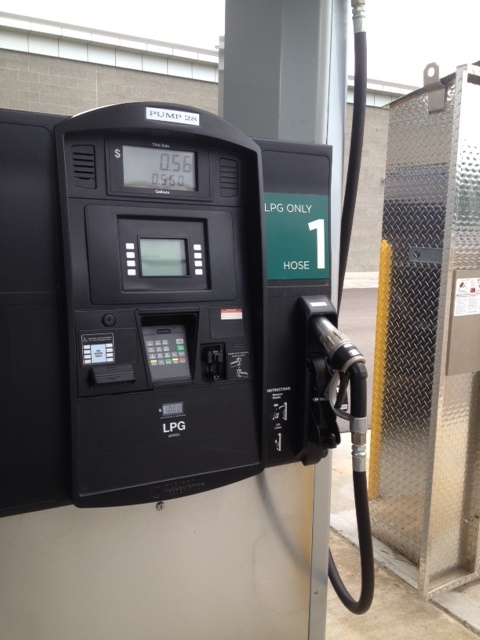 This summer Michigan State University (MSU) hosted GLACC's "Jump Start Your Green Fleet with Propane" event. Folks from all across the region showed up to check out propane vehicles and a fueling demonstration at MSU's new propane filling station. Experts on propane, or autogas, were on hand and included: GLACC member  – Suburban Propane that offers autogas at its Charlotte location, as well as Roush Cleantech – Ford's authorized propane upfitter for new F-series trucks, ICOM North America – the company responsible for converting MSU vehicles to run on propane autogas, and IPS – the firm that designed and installed MSU's on-site propane filling station. Each of these companies is either Michigan-based or has significant operations here in our great state. Attendees representing municipal and private fleet operators learned about how propane may be a good fit for their green fleet efforts.
Michigan Energy Fair
The Michigan Energy Fair sponsored by Great Lakes Renewable Energy Association held in the summer had a good showing this year of clean transportation exhibitors. Electric vehicle displays were prevalent in a variety of applications. Motor City Motors displayed an ell-electric early model Toyota Prius conversion as well as classic cars converted to run on electricity. Current Motor brought two electric motorcycles and scooters for attendees to see. This year's fair even had a presence of electricians focused on electric vehicle charging equipment installation (J. Ranck Electric, International Brotherhood of Electric Workers, National Electric Contractors Association). GLACC staff had a great time chatting with these vendors and the many attendees interested in how they can use alternative fuels or reduce their gas and diesel consumption in other ways!
EcoCar 2 Visits Lansing
While in Michigan for year three of the advanced vehicle competition series EcoCAR 2, teams visited Lansing to educate the community about EcoCAR.
Michigan State Representative Jeff Irwin welcomed EcoCAR 2 students to the Capitol, saying that Michigan is proud to support EcoCAR 2 because it develops opportunities to build tomorrow's vehicles and the infrastructure to support them.Members of the Clean Energy Coalition the host organization for the Ann Arbor and Detroit Clean Cities Coalitions, spoke about developing business models in clean energy and about communication with the public on energy and automotive issues.
National News
National News
And, a bonus announcement (drum roll, please)…we are thrilled to announce that the combined efforts of Clean Cities Coalitions across the country over the past twelve months have led to the conservation of one billion gallons of petroleum fuel through clean transportation practices and alternative fuel use! This is the first year we have hit such a high petroleum displacement number. It means that across the country we have prevented the production of 7.5 million tons of greenhouse gas emissions, which is equivalent to removing 1.5 million cars from the road! You can learn more about this milestone at our website 
www.michigancleancities.org
.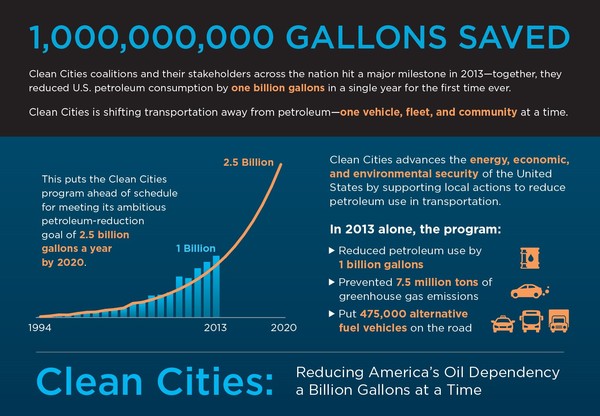 From everyone at GLACC, we wish you a happy and healthy New Year, 
thank you for your continued support!